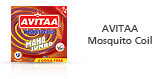 Arumuga Group continues to lead as one of the global textile manufacturers, making a big splash with a variety of consumer based goods.  This splash is the establishment of Avitaa Food Products (Food Division) and Arumuga Consumer Care (FMCG Division), adding mile stones to the group's development.  As foreseen, Arumuga has had printed a footmark, also in the filed of consumer goods.
"QUALITY IS ALWAYS REMEMBERED"  keeping this motto in mind, our responsibility starts from the fine selection of raw materials, continues with its production and only ends until it reaches a fully satisfied consumer.
The food grains, oil seeds are carefully hand picked to ensure good and healthy quality.  Our food products such as Masala and Oil do not contain any artificial colour, any harmful chemicals as preservatives and is always delivered in its purest form to offer the consumers naturally fresh and hygiene food products.
Our other consumer products such as detergent soap, powders, dish wash bar and mosquito coil are manufactured using permitted chemicals and natural fragrances that do not pollute the environment and is also human friendly.
At each and every stage, Arumuga cares to protect the environment, henceforth the human kind.
Accreditations:
We enjoy various international certifications and accreditations issued by prestigious organizations.
ISO 9001 : 2008
ISI Mark Cooking Curry Powders (known as Masala Powders)
Quality Policy
We, at ARUMUGA strive to meet both internal and external customer expectations through.
Consistent Quality
Customer Satisfaction and
Continual Improvement